1st Division 11v11 PRIMERA Spring 2020 Soccer · Any Primera (1st)
MonTueWedThuFri
Sat
Sun
8:00am to 6:30pm
Round-Robin (11 regular season matches) + Playoffs
Team Fees

Regular

$1449.00 per team + $5.00 Processing Fee

Additional Team Fee

$100.00 (payable by captain)
Free Agent Fees

Regular

$110.00

+ $5.00 Processing Fee
CASA presents the CASA League Cup! The CASA League Cup is a tournament separate from normal 11v11 leagues that serves as an opportunity for teams to get additional games in in an exciting knockout cup style environment, and provide inter-division match-ups with the chance for upsets from ambitious lower division clubs. The CASA League Cup is played exclusively on weeknights, with 1-2 cup rounds per month. The first round draw is Sunday March 8th at the spring captains' meeting, with match play starting March 9th! Don't miss out, sign up today at: CASA League Cup Registration
CASA is proud to announce that we have partnered with Icarus FC (https://www.icarusfc.com/). If your team needs new kits, contact Rob Smukler at owner@icarusfc.com! ALL CASA teams receive massive discounts for jerseys and full kits. Kits are completely custom designed and include free logo design as well. Order yours today!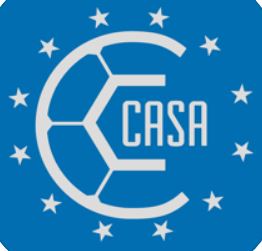 Download the CASA Soccer Mobile App on the Apple store!

Download the CASA Soccer Mobile App on the Android Store!

Format:

Maximum of 12 teams

Round-Robin (11 regular season matches) + Playoffs

11 v 11 soccer

90 minute games

2 referee system

Match balls provided

Referee fees per team, per match = $80 CASH

Games on Saturdays between 8:00 AM and 6:30 PM

Live match coverage (match photography and streaming live video coverage when available)


Top 5 teams qualify for the Kelly Cup City Championship

The bottom two teams [11th & 12th place] are relegated down one division to SEGUNDA (2nd)

Kelly Cup City Championship Final and the CASA End of Season Party will be Saturday, July 18th
---
Important Dates:
Registration Deadlines: NOW OPEN through 3/9 for teams and players

Late registration fee (after 3/9) = $50 additional

Roster Deadlines :




Saturday 3/14 or Matchweek 1 - Minimum 11 players rostered on the CASA website

Saturday 3/21 or Matchweek 2 - Minimum 15 players rostered on the CASA website

Saturday 4/4 or Matchweek 4 - Rosters locked on the CASA website

Any player added after this point needs to go through the commissioner

Players not added to the roster by the start of week 5 will be ineligible for playoffs and finals

Commissioners / Board judgement applies to this

$50 fine is given out for each roster deadline that is not met

Captains Meeting: Sunday March 8th
First game-day : Saturday March 14th

Footgolf Fundraiser: Saturday April 25th
Returning Teams:
Returning Teams use code "ICARUS SPRING 2020" to rollover your $100 league disciplinary deposit.
---
Fields:
Casa Soccer League's Primera (1st) division will play matches on turf fields in Philadelphia.

Primary field locations include:

Secondary field locations (we may have games here this season)