At Capacity
4th Division 11v11 CUARTO Fall 2020 Soccer · Any Cuarto (4th)
Sold Out
MonTueWedThuFri
Sat
Sun
8:00am to 6:30pm
Round-Robin (11 regular season matches) + Playoffs
Team Fees

Regular

$1349.00 per team + $5.00 Processing Fee

Additional Team Fee

$100.00 (payable by captain)
Free Agent Fees

Regular

$110.00

+ $5.00 Processing Fee
CASA is proud to announce that we have partnered with Icarus FC (https://www.icarusfc.com/). If your team needs new kits, contact Rob Smukler at owner@icarusfc.com! ALL CASA teams receive massive discounts for jerseys and full kits. Kits are completely custom designed and include free logo design as well. Order yours today!
---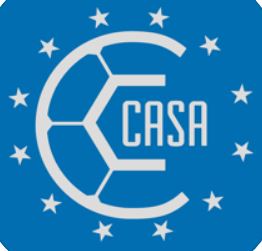 Download the CASA Soccer Mobile App on the Apple store!

Download the CASA Soccer Mobile App on the Android Store!

---
Format:

Maximum of 12 teams

Round-Robin (11 regular season matches) + Playoffs

11 v 11 soccer

90 minute games

2 referee system

Match balls provided

Referee fees per team, per match = $80 CASH

Games on Saturdays between 8:00 AM and 6:30 PM

Live match coverage (match photography and streaming live video coverage when available)


Regular season champs and playoff promotion champs are promoted up one division to Tercera (3rd)

2nd, 3rd, 4th & 5th place teams enter the promotion playoffs.

The bottom two teams [11th & 12th place] are relegated down one division to Quinto (5th)

Regular season champs qualify for the Kelly Cup City Championship

Kelly Cup City Championship Final will be Saturday, December 19th
---



Important Dates:

Registration Deadlines

: NOW OPEN through 9/5 for teams and players

Late registration fee (after 9/5) = $50 additional

Roster Deadlines :




Saturday 9/12 or Matchweek 1 - Minimum 11 players rostered on the CASA website

Saturday 9/17 or Matchweek 2 - Minimum 15 players rostered on the CASA website

Saturday 10/3 or Matchweek 4 - Rosters locked on the CASA website

Any player added after this point needs to go through the commissioner

Players not added to the roster by the start of week 5 will be ineligible for playoffs and finals

Commissioners / Board judgement applies to this

$50 fine is given out for each roster deadline that is not met


Captains Meeting: Sunday August 30th
First game-day : Saturday September 12th

---




Returning Teams

:

Returning Teams use code "

ICARUS FALL 2020

" to rollover your $100 league disciplinary deposit.
---
Fields:
Casa Soccer League's Cuarto (4th) division will play matches on turf and grass soccer fields in Philadelphia.

Primary field locations include:

Secondary field locations (we may have games here this season)