At Capacity
3rd Division 11v11 TERCERA Fall 2021 Soccer · Any Tercera (3)
Accepting Free Agents Only
MonTueWedThuFri
Sat
Sun
8:00am to 6:30pm
Round-Robin (11 regular season matches) + Playoffs
Team Fees

Early Bird

$1549.00 per team + $5.00 Processing Fee

Regular

$1549.00 per team + $5.00 Processing Fee

Late

$1599.00 per team + $5.00 Processing Fee

Additional Team Fee

$100.00 (payable by captain)
Free Agent Fees

Early Bird

$125.00

+ $5.00 Processing Fee

Regular

$125.00

+ $5.00 Processing Fee

Late

$130.00

+ $5.00 Processing Fee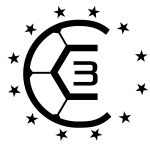 Fall footy is almost upon us with CASA, Philadelphia & South Jersey's number one adult amateur soccer league! Don't forget to also sign up for the CASA League Cup, the best amateur 11v11 knockout tournament in the United States!

Maximum of 12 teams

Round-Robin (11 regular season matches) + Playoffs

11 v 11 soccer

90 minute games

2 referee system

Match balls to be provided by captains

Referee fees per team, per match = $80 CASH

, Venmo, Cash App

Games on Saturdays between 8:00 AM and 6:30 PM

Live match coverage (match photography and streaming live video coverage when available)


Regular season champs and playoff promotion champs are promoted up one division to Segunda (2nd)

2nd, 3rd, 4th & 5th place teams enter the promotion playoffs.

The bottom two teams [11th & 12th place] are relegated down one division to Cuarto (4th)

Regular season champs qualify for the Kelly Cup City Championship

Kelly Cup City Championship Final will be Saturday, December 18th
---
Important Dates:
Registration Deadlines: NOW OPEN through 8/28 for teams and players

Late registration fee (after 8/28) = $50 additional

Roster Deadlines :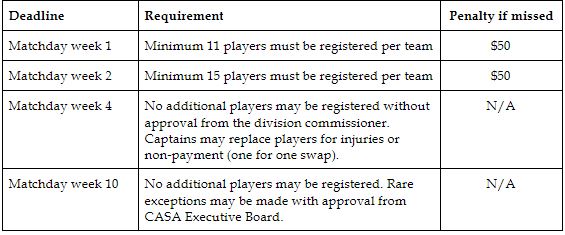 Captains Meeting:

Sunday August 29th

First game-day : Saturday September 11th
Footgolf Fundraiser: Sunday TBD
Returning Teams:
Returning Teams use code "ICARUS FALL 2021" to rollover your $100 league disciplinary deposit.
---
---
Fields:



Casa Soccer League's Tercera (3rd) division will play matches on turf fields in Philadelphia

and the surrounding counties.

Primary field locations include:

Secondary field locations (we may have games here this season)
CASA is proud to announce that we have partnered with Icarus FC. If your team needs new kits, contact Rob Smukler! ALL CASA teams receive massive discounts for jerseys and full kits. Kits are completely custom designed and include free logo design as well. Order yours today!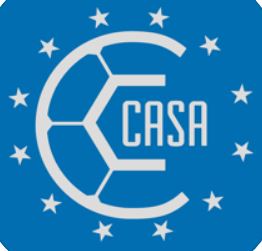 Download the CASA Soccer Mobile App on the Apple store!