At Capacity
7v7 Tues Nights @ South Philly Supersite | Summer 2018 Soccer · Any All Levels
Sold Out
Mon
Tue
WedThuFriSatSun
7:30pm to 10:30pm
7v7 - 6 matches + playoffs
Team Fees

Regular

299.0 per team + 5.0 Processing Fee

Additional Team Fee

100.0 (payable by captain)
Free Agent Fees

Regular

35.0

+ 5.0 Processing Fee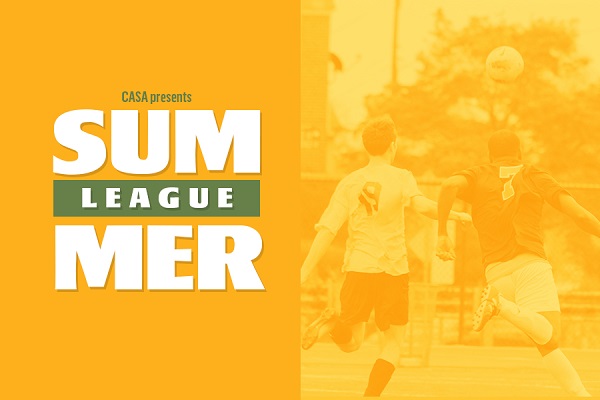 Join us on the pitch this season!
All leagues are open to both men and women; there is no requirement for a certain number of either gender to be on a team or field at any time and all goals count the same. CASA is for everyone - including any person who calls themselves a footballer, no matter their ability. CASA Soccer is the largest independent amateur adult network on the East Coast.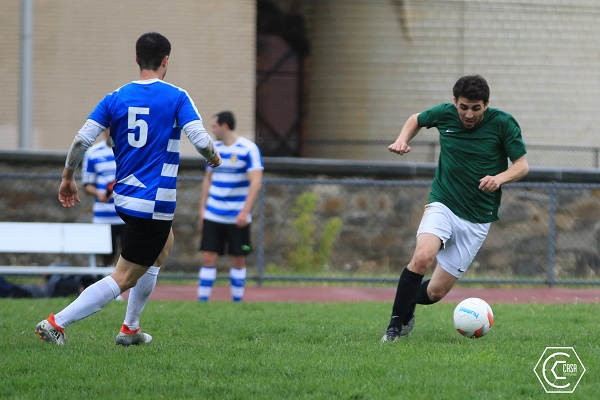 Join
us in our 7v7 Tuesday Evenings Summer League on the turf fields the South Philadelphia Supersite. The league is starting on Tuesday, July 10 and running through August 14th, 2018 teams will play 6+ games.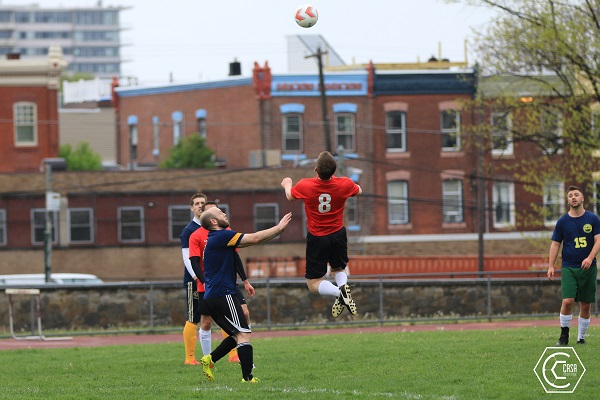 7v7 soccer on high quality turf fields

50 minute matches consist of two 25 minute halves

6 match days + playoffs


Hummel karma match balls provided
Certified Match Officials ($25 per team per match)

$299 per team, $35 per player

Welcoming individual players, groups of players, and new teams

Returning Teams use code casa-noble to rollover your $100 team disciplinary deposit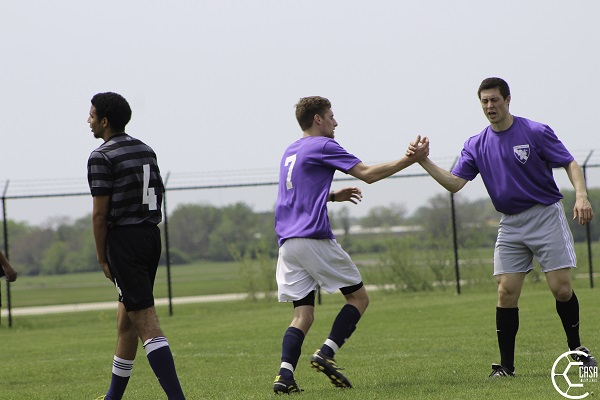 Want to join a team by
yourself or with friends?
Register as a "Individual" and we
will place you on a team, GUARANTEED! This is a great way to meet new people,
and many of our returning teams started as a group of free agents. If you and a
friend want to play on the same team, register as Individual players and then
write each other's names in the "Teammate or Team Request" box during
registration. If you have more than a couple of friends interested in playing
together, register as a "Small Group Member" and then have your
friends do the same under your Small Group listing.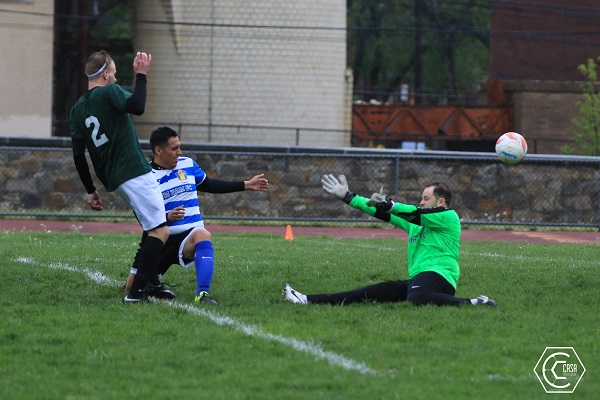 Want to start your own
team?
Read our Captains Corner page which outlines
two options for captains to register their team and manage their season dues. Need additional players for your team? Email communications@phillysoccer.com
and we'll be happy to help. Don't see the type of league you want or specific
day you're looking to play on? Let us know! We a're continually activating new fields and expanding
our leagues to accommodate more teams.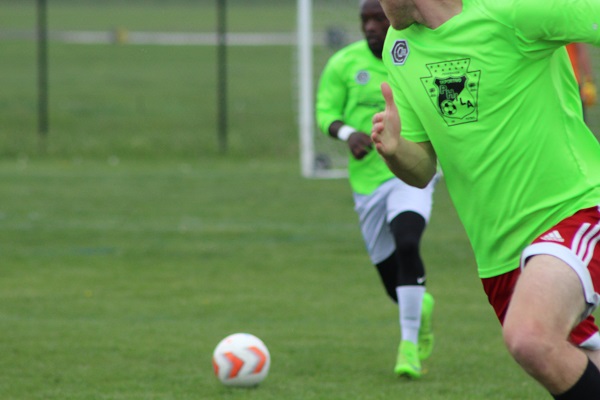 ---
Rules of the 7v7 game
There is NO
SLIDE TACKLING (except goalkeepers), NO OFFSIDES, and NO
GOALKEEPER PUNTING in ANY of our leagues!
LEAGUE
STANDINGS POINT SYSTEM | Win = 3 points, Tie
= 1 points, Loss = 0 points. League games that end in a tie score after
regulation play shall remain a tie game. Playoff games ending in a tie will go
directly to Penalty Kicks. (See IV. M. PENALTY KICKS)
LEAGUE
DIVISIONS TIES | Any league
divisions ending in a tie at the end of the league season shall be governed by
the following tie breaking system order: 1. Goal differential 2. Goals for
NUMBER OF PLAYERS | 1. Seven players, one of whom shall be a goalkeeper. 2. Minimum of 5 players needed to
start and continue a game.3. Team roster is limited to 14 players. 4. If minimum # of players is not met
at game start time, the game clock will start, and if the team does not meet
the required number of players by 10 minutes into the game, game will be
recorded as a forfeit.
YELLOW
CARD POLICY | A player receiving a yellow card must sit
out for 2 minutes. Another player may immediately sub in for the yellow-carded
player.
RED
CARD POLICY | A player or coach sent off in (or after) a game by a referee (red carded)
will automatically be suspended from the next gameday in the season. Red card offenses
include suspensions for "foul and abusive language", "persistent
infraction of the rules after receiving a 2nd caution, and "violent
conduct". The team is fined $100 and must be paid to the league before the
next league match. If for any reason an official asks that a person leave the
arena, the person must leave.
START OF PLAY | 1. Kickoff
will be given to the home team. Visitors will have kickoff at the start of the
second half. 2. A kickoff will start the game and restart the game after a goal
has been scored. 3. Teams will change direction at half time and alternate
kickoff. 4. A goal can be scored directly from a kickoff. 5. The ball does not
have to go forward from a kickoff. 6. Player has 5 seconds to put ball back
into play. 7. All free kicks are indirect.
GOALKEEPERS | 1. Outdoor FIFA rules apply when passing back to the
goalkeeper. 2. Goalkeeper may slide tackle inside the penalty box leading with
either hands or feet if done safely and with intent to play the ball, subject
to the referee's discretion. 3. Goalkeeper may not punt or drop-kick the ball.
SUBSTITUTIONS | 1. Free unlimited substitutions on the fly.2. Substituting
players must enter/exit within 3 yards of the midfield line by
"tagging" in and out.
FREE KICKS | 1. All free kicks are indirect. 2. Ball is in play when it moves from foot contact from the
initial player. 3. Opposing players
shall be 5 yards (15 feet) from the ball.4. Player taking a kick cannot play it
again until someone else touches the ball.
5. If opponent refuses to move back 5 yards (15 ft) on referee's request,
he may be given a yellow card for unsportsmanlike behavior. 6. If a player taking the kick delays for longer than five (5)
seconds after having been signaled to do so by the referee, the opposing team
will be awarded the kick.
PENALTY KICKS (SHOOTOUT) | 1. If necessary, time shall be extended at the end of each period to allow the taking of a penalty kick. 2. The ball shall be placed at the spot on the top of the goalkeeper's area. 3. Only the goalkeeper is allowed in the penalty area. 4. In the event of a tie (during playoffs only), penalty kicks will be taken (no overtime). Winner will be decided by the best team out of 5 kicks. If still tied after both teams have taken 5 kicks, then additional players will take the kicks in a sudden death kick off. Only players that were on the field at the end of the game will be allowed to participate.