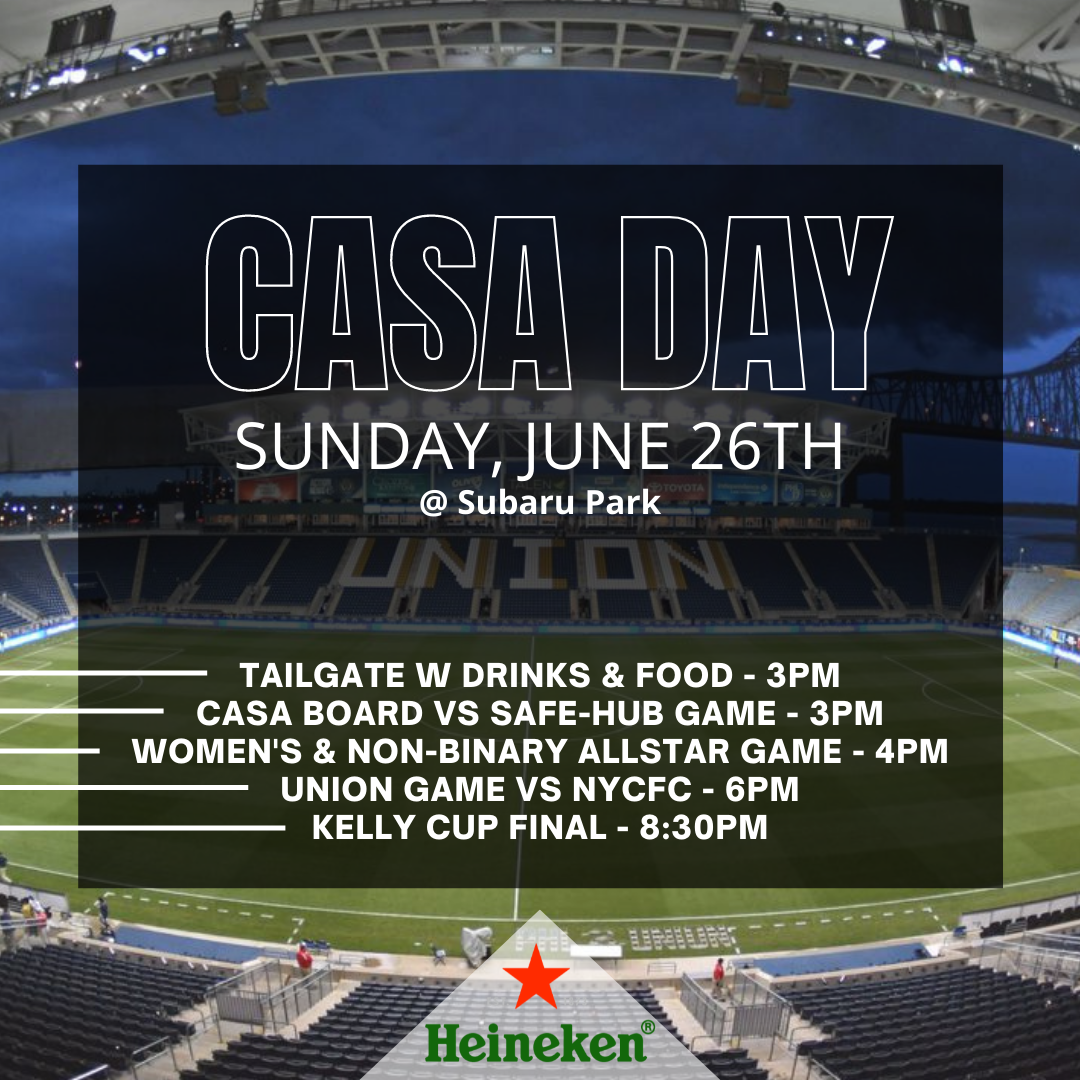 CASA Day is coming - FREE Union tickets, FREE food & beverage, and lots of fun!
Tailgate with us at 3 PM next to the Philadelphia Union Training Fields
Heineken cornhole competition; free food courtesy of CASA; Heineken representatives will be handling out samples from 3-5 pm; Featured drinks: Heineken, Heineken 0.0 (nonalcoholic), Strongbow Cider, & Ranch Water Seltzer.
Watch the CASA Board of Volunteers take on the Safe Hub Board of Volunteers at 3 PM in a thrilling match!
Safe Hub won the Fall 2022 fixture, 8-7.
The Women's & Non-Binary All-Star Game is at 4 PM on the grass!
Watch as two teams of the top players battle it out to see who is the best of the best. We've had a record 16 teams in TWO divisions this year!
The Philadelphia Union takes on NYCFC at 6 PM in Subaru Park
CASA participants are eligible to receive free tickets to the match, courtesy of CASA. Reach out to your captain for more information. All Spring 2022 CASA teams should pick up their Union tickets at the tailgate.
The Kelly Cup Final at 8:30 PM in Subaru Park! Check out two of CASA's best 11v11 teams going head to head
Should be a great match at an awesome venue. The quarterfinals are 6/11 & the semifinals will be 6/18.
2501 Seaport Dr, Chester, PA 19013 (friendly reminder that the Union charges $20 cash per car for parking)