Welcome to the CASA Captain's Corner


This page contains valuable resources that CASA captains to use as a guide to effectively manage your club to a successful season.
---
Captains Corner Forum
We recommend all captains join the Captain's Corner Facebook Group, a dedicated CASA Captains Corner Forum for captains to share ideas, pose questions, schedule friendlies, and anything else soccer related. If you are a captain and would like to access this group please contact us at communications@phillysoccer.org for an invitation. Sorry, captains only.
Interested in Teaming up with a Local Sponsor or Pub?

For the Spring 2019 season, CASA is ready to assist your team in finding and signing with a local sponsor. Many pubs and bars are actually looking for teams like yours to target and promote their business! Please get in contact with John Trueman at marketing@phillysoccer.org for more information ahead of the Spring 2019 season. Partnering up with a local sponsor is a great way to help your team with costs while it promotes your sponsor in an ideal culture of local athletes.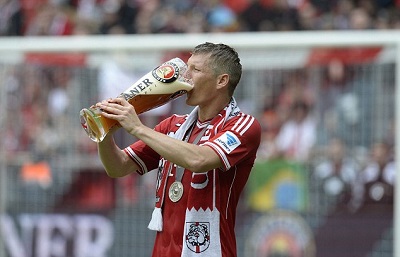 If this is how you celebrate a WIN, there are bars that want to partner with you!
Add New Players to Your Team

Are you in need of a few more players to complete your squad?
Be sure to check out our free agents forum here: http://www.phillysoccer.org/players?programRole=FREEAGENT
When you find a free agent, please click on the

Invite to Team

button so the rest of the captains know not to contact the player.

Captains may also invite team players to join their team by simply sending a team invite by email. You will find this option in your Dashboard when you click on your current team for this season. In the gray bar (on the right) under Roster, click Send Invites.
Many of CASA's most successful clubs were with adding free agents. While Lionel Messi hasn't registered for CASA yet, you'll be pleasantly surprised at the level of play many free agents are capable of!
Casa Roster Policies
Casa team rosters are regulated by team captains and monitored by Casa officials. We take a proactive stand on team rosters ahead of the Kelly Cup Champions League and therefore asking all team captains to comply with the following policies. All roster policies can be found in the 11v11 rules document at CASA Soccer Rules and Regulations.
Each team will be allowed to sign a maximum of thirty (30) players to any one team.

No two players on the same team in any given game shall use the same jersey number. Any player using the same number shall be considered an ineligible player and the team shall forfeit the game.

There must be a MINIMUM of fifteen (15) players rostered to each club at any given time on each team roster on the CASA website.

When Club Colors conflict: the Home Team must change. For the Kelly Cup Championship and promotion playoffs - the lower seed changes.

Each Club shall be responsible for seeing that every player is properly dressed and equipped, and will be expected to do everything possible to make the game attractive from a spectator's point of view.
Game Officials
Referees must report all Game Results and Goal Scorers to the appropriate League Commissioner.
7v7 and 5v5 matches - 50 minute matches.

Referee fees are $25 per team per game and are paid by team captains at the coin toss.



11v11 matches: 90 minute matches.

Referee fees are $80 per team per game and are paid by team captains at the coin toss.

All CASA match officials are licensed and certified.