Casa Soccer League Rules of Operation 
The following rules serve as the highest level of precedence and are a supplement to rules and FAQs and guideline rules referenced in the captain's corner.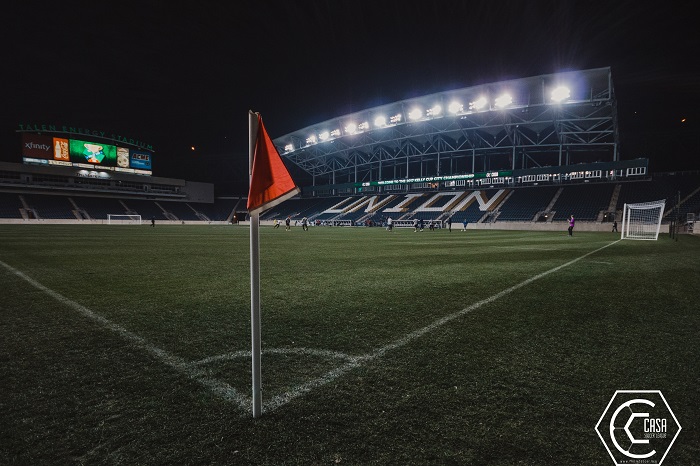 CASA delivers high quality, affordable futbol for all.
Founded in 2005, the CASA community consists of 9,000+ local soccer players growing into the largest independent amateur soccer community in the USA. We offer year-round soccer programs throughout Philadelphia for men and women.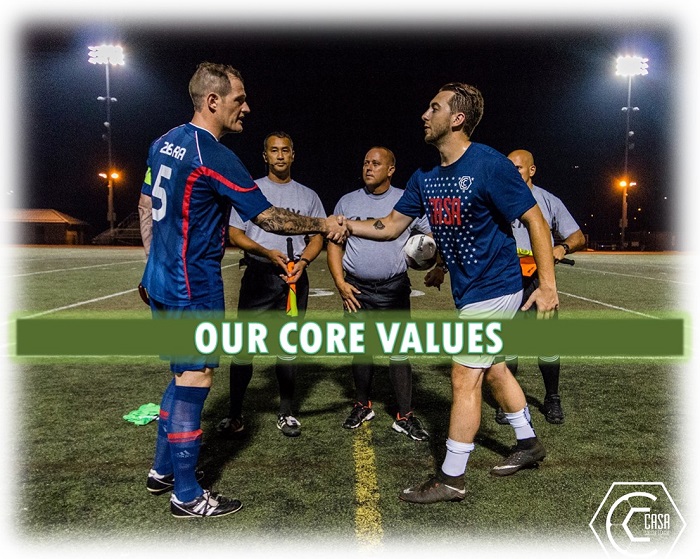 Inclusion: Anyone who associates as a soccer player is welcome, regardless of ability or background. Our vast player diversity spans 70+ countries. 

Service: Operating 100% at cost, managed by unpaid volunteers. All proceeds go back into the community to support the growth of the sport at a grassroots level and to benefit our local non-profit soccer partners. 
Health: Instilling well-being in mental, social, physical health. 
Leadership: Fostering opportunities for new, safe places to play in Philadelphia.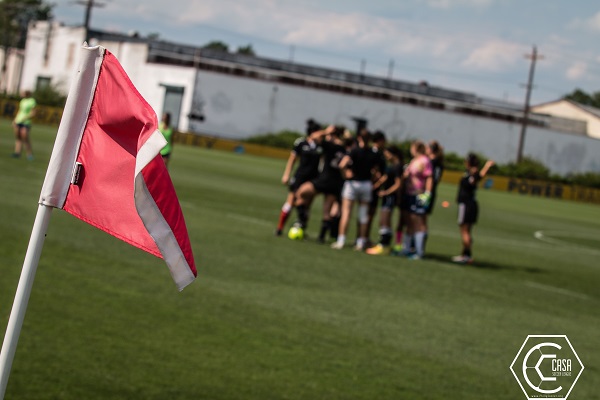 New to CASA? Welcome!
CASA offers 11v11, and various 7v7 and 8v8 leagues throughout the year. We welcome all skill levels from beginner to former pros. If it's been a few seasons since your last game, we recommend starting off in one of our more recreational divisions and working your way back up to your glory days.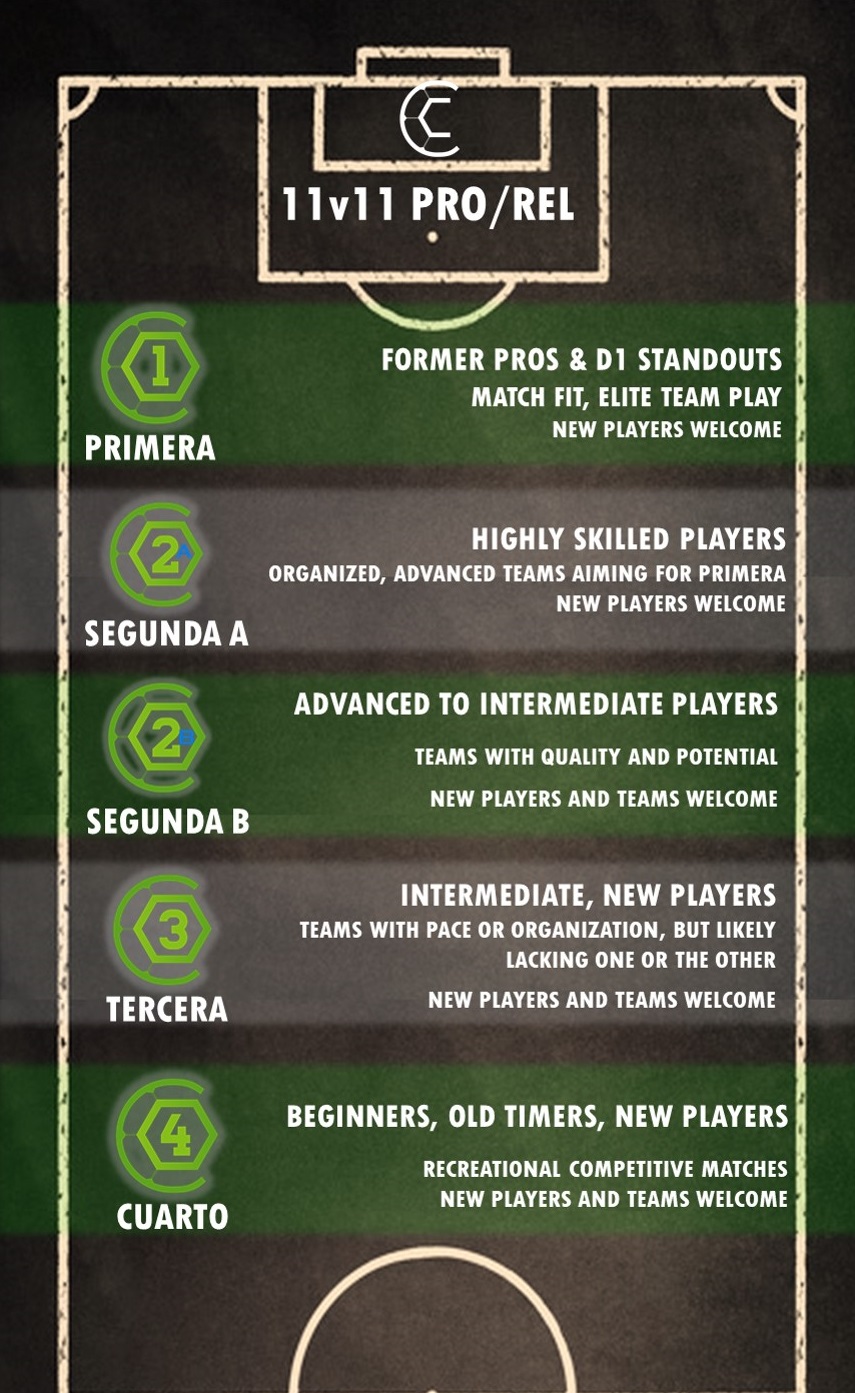 11v11 League Format (Cuarto, Tercera, Segunda B, Segunda A, Primera)
1. Promotion and Relegation: the top two teams are promoted (regular season champ and promotion playoff winner), and the bottom two teams are relegated. 
2. FIFA rules apply unless otherwise stated.
3. Games are 11v11, full field with 45 minute halves.
4. Two certified referees are assigned to each match. DISRESPECT TOWARDS REFEREES WILL NOT BE TOLERATED. Only captains may question on-field calls, and only in a calm and courteous manner.
5. Unlimited substitutions are permitted from either team on goals kicks and throw-ins. Note that referees may exercise discretion when granted substitutions based on the flow of play.
6. 11v11 leagues are gender neutral and welcome anyone who identifies as a soccer player, no matter your skillset. There is no gender minimum or maximum either for rosters or active players on the field.
7. Primera, Segunda A & B, Tercera, and Cuarto divisions play in a post-season stand-alone cup titled the Kelly Cup City Championship. 
8. The Kelly Cup is played in parallel to the division promotion playoffs.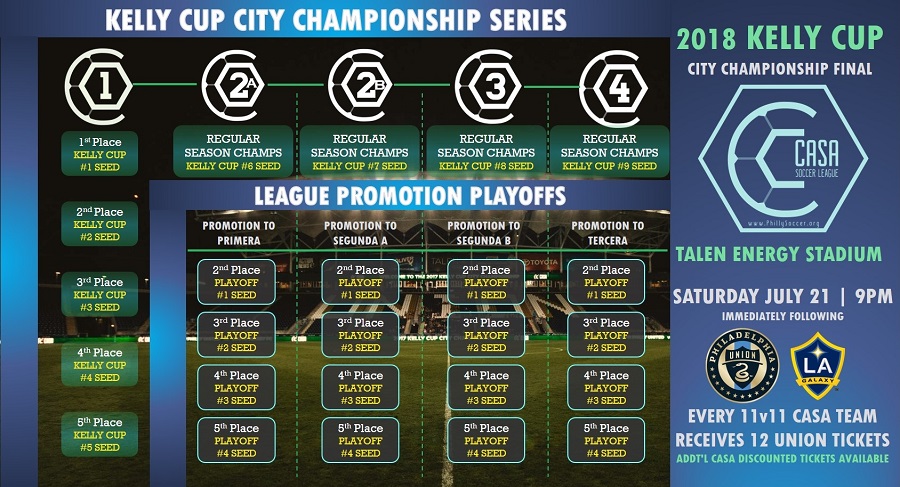 9. Pre-game Player Check. Captains will be required to submit rosters by half time each game. Referees will collect rosters and compare them against the registered players for the team on the website. Captains are required to note guest players on the game day roster
10. Edit Your Roster. League captains have the right and ability to edit their roster at any time through the regular season. Captains may add free agents and new players to your team through week 3 the season if necessary.  All rosters are locked the Monday after the third match of that season. To add a player, captains may invite players to their team or they can manually add players instantly to their team. To remove a team player from your squad, please email your commissioner the player name and we will reassign the player to the free agent list. 
11. Team Shirts/Jerseys. All teams are required to wear, at a minimum, shirts of the same color with visible player numbers. Tape/draw one on if you don't have one. Home team wears alternate kits if color conflicts. In playoffs, lower seed wears alternate kits.
12. Maximum Roster Size. All team rosters are to consist of no more than thirty (30) Casa league players. All captains are required to maintain and manage their team rosters throughout the season to the best of their ability. Team rosters are required to include players names, valid email address, and their unique player number. All players must have unique numbers (two players cannot be #10, for example). No two players on the same team in any given game shall use the same jersey number. Any player using the same number shall be considered an ineligible player and the team shall forfeit the game or be assessed a $100 league fine. Each Casa team shall be responsible for seeing that every player is properly dressed and equipped, and will be expected to do everything possible to make the game attractive from a spectator's point of view. 
13. New Team Players. All CASA teams are required to complete their team rosters to include all team players than plan to play one or more Casa league games per season. All free agent players are required to be listed as team players before playing in a CASA league match. In the event that a team is short players for a given match (i.e. less than 15 rostered players), the team may invite free agents and guest players to play in their matches. The identification of all free agents and guest players will be checked prior to the start of the match by the CASA officials. Approval is needed by the opposing captain for a non-rostered player to play. Guest players are not allowed to participate in playoffs/the post-season.
14. Inviting free agents and unregistered players to your team. All league captains have the ability and responsibility to edit their league roster to reflect their team's roster at any given time. Free agents and unregistered players are invited and encouraged to contact teams to gain the right to become a team player. Free agents and captains are available to coordinate through their league message board, and all CASA captains are able to view the free agent database in the event that your team requires players from week to week. Players not on your league roster are ineligible to play in CASA league matches, with the exception of valid guest players.
15. Right to a Roster Check. All league captains have the right to request a roster check at any given match. All captains have the right to approve or deny another team's requests to use free agent and guest players as stated in the CASA guidelines for guest players. CASA encourages captains to work cooperatively to avoid any match forfeitures.
16. Minimum Roster Requirements. In the event that a team has less than 15 rostered players present for a particular match, that team is eligible to invite guest players to play for the team to attain 15 total players. There is no maximum to the number of guest players as long as the total players does not exceed 15.
17. Guest players in the Same Division. Registered, rostered team players may not play as a guest player in their own division, unless the opposing team captain approves of the guest players participation. Guest players in good-standing (no suspensions, accurate player registration account) that are rostered from other CASA teams in other CASA divisions are eligible to play as guest players. All guest player requests must be submitted to the referee at the pre-game player check prior to the game they are guest playing in.
18. Dual Rostering is Prohibited. Players may only play for one team within the five competitive divisions (Primera, Segunda A, Segunda B, Tercera, Cuarto).
19. Ineligible Players. Any Club proven to the satisfaction of the Division Commissioner to have played an ineligible player, shall automatically forfeit the game concerned, the opposing Club shall be awarded the three (3) points.
20. Right to Appeal. Captains have the right to submit an appeal application to their division commissioner of a result of a given match. The validity of the appeal will be reviewed and determined by the league board. Appeals must be made to the commissioner no later than 24 hours after the match.
21. Disciplinary Deposits and Forfeits. Each new applicant club must pay a one-time non-refundable disciplinary deposit of $100 to join the Casa Soccer League. The disciplinary deposit shall be carried over for returning teams in good standing who are in compliance with the following conditions:
No red cards from the previous season.  

No league forfeits from the previous season. Each league forfeit results in a fine up to $300 and CASA reserves the right to review the application and status of the team for the following season.


Compliance of all team roster rules of operation.
22. Failure to provide a minimum of 7 eligible players at any match will result in a $300 fine. Casa hates forfeits (the fields the league rents are very expensive) and we want our Casa teams to have alternative solutions to field a full squad, such as adding free agents to your team as team players, and the proper utilization of eligible guest players.  Notice must be given prior to 72 hours before the scheduled match in writing (via e-mail) to the i.) league commissioner, ii.) the Director of Communications and iii.) the league President. Please attempt to contact the opposing team as early as possible, both as a courtesy and to attempt to reschedule the match. 
23. $100 fines will be given with red cards out for unsporting behavior, referees will use their discretion.
24. Discipline. Four (4) accumulated yellow cards over the course of a season (including playoffs) results in a one (1) game suspension (the game following the fourth card). Two additional cards yield another suspension. Red cards will count as two (2) cards towards the four accumulative.
25. A red card or two yellows in a game is a minimum of a 1-game automatic suspension (the next game). Suspended players may not be present at game. Sent-off players must leave the premises (200 yard radius) and may not return, even at the conclusion of the game. This includes the parking lot. If your team is not notified about further suspension, the red carded player must serve the automatic 1-game suspension. If sent-off player does not comply with referee instruction to leave premises, the team will forfeit the match and lose both their forfeiture deposit and discipline deposit. 
26. Sideline subs and team fans' behavior are subject to cards and deposit forfeiture. The League board handles additional warnings, probation, or discipline as situation warrants under the direction of the President and Division Commissioners. No one on the League's Board including the President has the ability to overturn an in-game call by a referee under any circumstance. In instances of severe misconduct, the League reserves the right to issue multiple-game or permanent suspensions, team dissolution and/or all other available legal remedies. 
27. Ignorance of CASA Rules and regulations is not a defense against violations of them.
28. Below are the 7 actions that warrant a red card and the 7 that warrant a yellow card, to be used as guidelines for the referees and players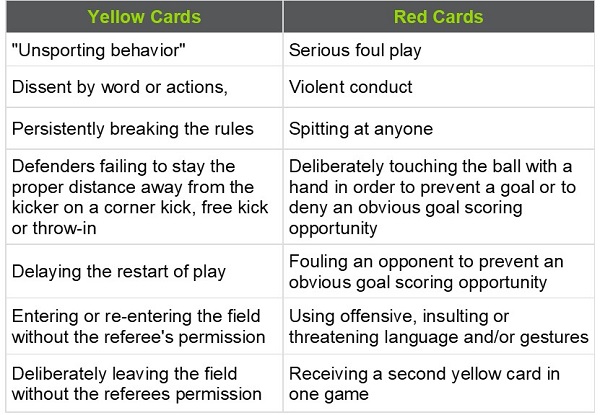 29. Equipment. Shin guards are required. Those not wearing shin guards will not be permitted to play. No jewelry, watches, chains, rings, etc. (Some refs are very strict) Cleats are highly recommended. Captain armbands are recommended.
30. Division Promotion. The 1st ranked team at the end of the regular season of a lower division is promoted one division. The teams that finish in second through fifth place in the lower divisions play in a four-team postseason playoff. The winner is promoted. (If the season has too many rainouts, the postseason playoff could be condensed to two teams or eliminated altogether, with the second place team being promoted.)
31. Division Relegation. The bottom two teams in regular season will be relegated, with one exception. If a team retains fewer than seven (7) players from the previous season or does not participate continuously across the spring and fall seasons, the team is automatically relegated to the lowest division. (The league board has discretion to place teams in higher divisions, however, if there are slots vacated.)
32. Goalkeepers. 6 Second Ball Holding Max (standard rule)
33. Slide Tackling. Slide tackling by field players is prohibited. Goalies play by FIFA rules. Sliding is OK when no one else is near. No contact or intent to make contact, even through ball is permitted. Referees have discretion.
34. Statistics and Record Keeping. CASA League Board and CASA officials are responsible for entering game stats (goals, assists, line-up, etc.) for league matches. CASA maintains Man of Match and cards on website. Man-of-the-match awarded by referees.
35. Points and Scoring. 3 Points for a Win, 1 Point for a Tie (there is no overtime in regular season games), 0 points for a loss. Penalty Kicks break a tie ONLY in playoff games. Ranks and Seeds are sorted in this order: 
Primary: Team with higher goal differential

Secondary: Head to head

Fallback: Team with less goals scored against
36. Maximum Goal Differential. The maximum goal differential for each league game is +/- 5. 
37. Rainouts. We cannot guarantee a rainout will be re-scheduled; however, we make every effort to do so. Rainout notifications will first be posted on the Casa Facebook and Twitter pages, and then the homepage of the website. Due to the fixed-costs of the league, refunds cannot be issued in the event a rainout cannot be rescheduled. A game is considered official after 60 minutes of play have elapsed. If a game is called after this point for whatever reason, the score at the time of stoppage will be used as the final result. In the event the score is tied and it is a playoff match, the remaining time will be played. If a game is called before 60 minutes have been player, the league will reschedule the game to be played with the score it was called at and time. For example if a game was ended at half time with the score at 2-1, the rescheduled game will start at the second half with the score of 2-1.
---
7v7, 8v8 League Format (Womens, Over-30, Abierto)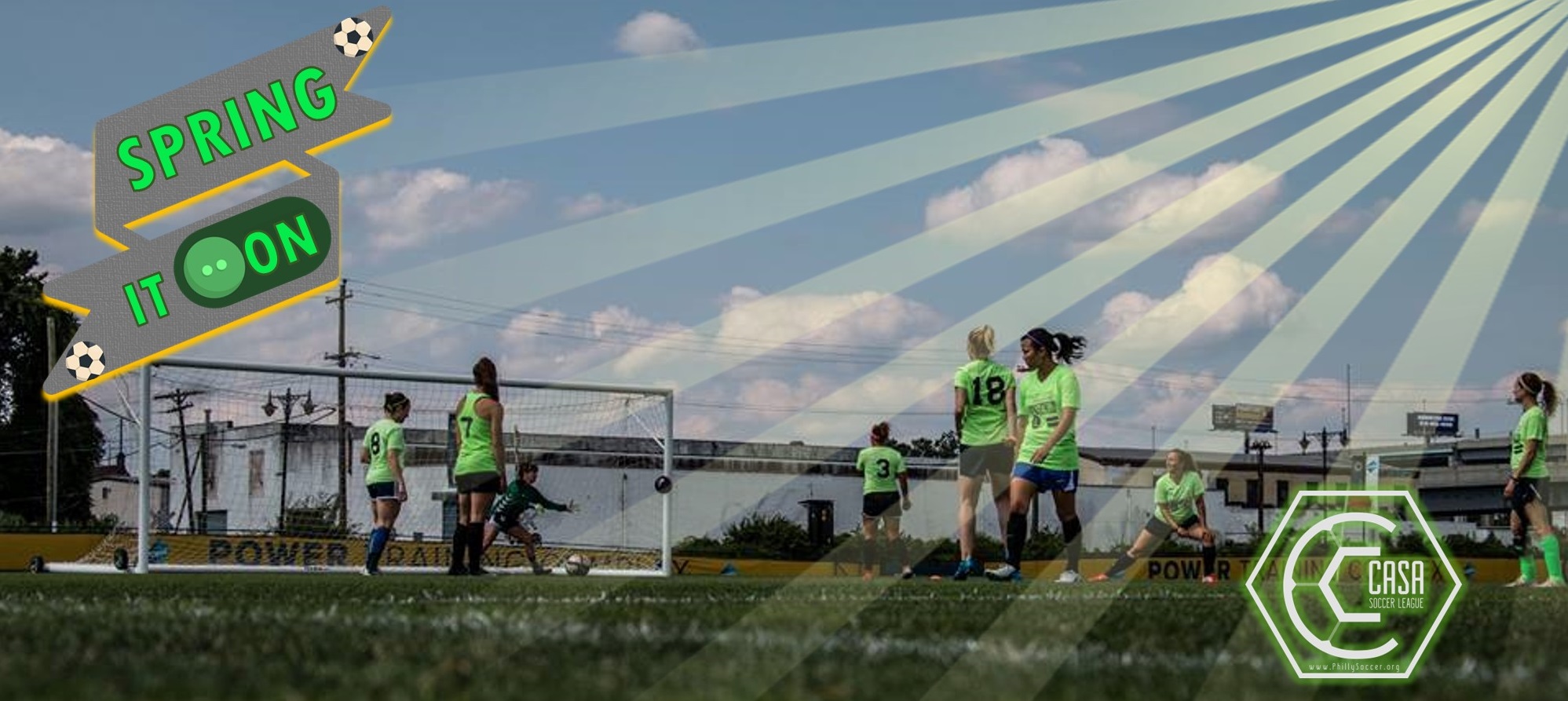 38. FREE KICKS | All kicks are indirect. 
39. RESTART OF PLAY | All balls out of bounds will be kicked in (also indirect)
40. REF FEES | $25 is to be paid to each ref each game.  (i.e. 1 team is responsible for 1 ref fee)
41. SLIDE TACKLING | No slide tackling is permitted.
42. SUBSTITUTIONS | Subs can be made on the fly
43. OFFSIDES | There are no off-sides in 7v7, 8v8 play.
44. GOALIES | Goalies may not throw in the air past the half line (result is an indirect kick for other team)
45. PLAYOFFS | 1st thru 6th place advance to the playoffs. There is no promotion or relegation.
---