VOID CASA Europa League (B) Summer 2020 Soccer · Any Abierto (Open/Recreational)
MonTueWedThuFriSatSun
Team Fees

Regular

$949.00 per team + $5.00 Processing Fee

Additional Team Fee

$100.00 (payable by captain)
Free Agent Fees

Regular

$75.00

+ $5.00 Processing Fee
CASA is BACK, presenting the CASA Europa (B) League! CASA plans to return to competitive 11v11 action by July 10th IF Philadelphia is in the green phase of Governor Tom Wolf's plan by that point. CASA will be announcing its new COVID-19 safety protocols in the weeks leading up to the tournament kickoff. The CASA Europa League is the perfect platform for teams from Cuarto, Quinto, and Sexto divisions to prepare for the Fall 2020 season.
The CASA Europa League is a new 8-week long tournament running in conjunction with the new CASA Champions League, with matches played primarily on Saturday mornings with a few Friday evening fixtures each week. The CASA Europa League will consist of a long group stage format with knockout rounds to follow. The preliminary draw for the tournament/online captains' meeting will be held on Sunday, July 5th; streamed live to CASA Facebook and YouTube feeds!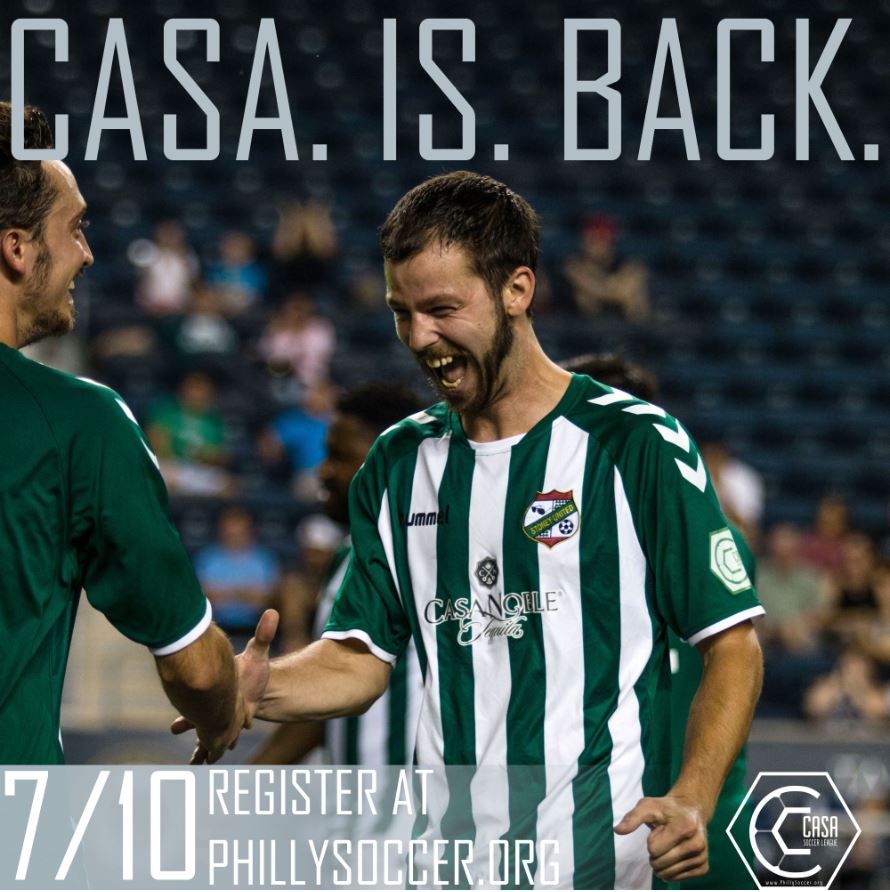 ---
Format:
Group stage tournament (6 matches minimum) with knockout rounds

Knockout matches ending in a draw go directly to golden goal followed by penalty kicks

11 v 11 soccer

90 minute games

2 referee system

Match balls provided

Referee fees per team, per match = $80 CASH

Matches on Saturday mornings at 8:15 AM & 10:00 AM, with a few matches each week on Friday evenings at 7:00 PM

Live match coverage (match photography and streaming live video coverage when available)

Final held between August 28th and September 2nd at Temple University Sports Complex
Cup Format:
CASA Europa League will be split into groups of 6 teams (alternate formats with groups of 4 or 8 teams will be considered prior to tournament draw)

Each team will play all the other teams in their group in a round-robin format for the first 5 matchweeks

Top 8 teams in the CASA Europa League (ranking methods TBD prior to tournament draw) qualify for the quarterfinals, followed by semifinals and the final)

The remaining teams will contest a consolation tournament
---
Important Dates:
Registration Deadlines: NOW OPEN through 7/5 for teams and players

Late registration fee (after 7/5) = $50 additional fee charged to team

Roster Deadlines:




Friday 7/10 or Matchweek 1 - Minimum 11 players rostered on the CASA website

Friday 7/17 or Matchweek 2 - Minimum 15 players rostered on the CASA website

Friday 7/31 or Matchweek 4 - Rosters locked on the CASA website

Any player added after this point needs to go through the commissioner

Players not added to the roster by the start of week 5 will be ineligible for playoffs and finals

Commissioners / Board judgement applies to this

$50 fine is given out for each roster deadline that is not met
Online Captains Meeting/Preliminary Draw: Sunday July 5th
Opening night for group stage: Friday July 10th

Final: Between August 28th through Sept 2nd pending finalization of groups
Returning Teams:
Returning Teams use code "ICARUS SUMMER 2020" to rollover your $100 league disciplinary deposit.
---
Fields:
Casa Soccer League's Europa League (second tier) will play matches on grass fields in Philadelphia, with a few matches on turf.

Primary field locations include:

Secondary field locations (we may have games here this season)
---
CASA is proud to announce that we have partnered with Icarus FC (https://www.icarusfc.com/). If your team needs new kits, contact Rob Smukler at owner@icarusfc.com! ALL CASA teams receive massive discounts for jerseys and full kits. Kits are completely custom designed and include free logo design as well. Order yours today!

---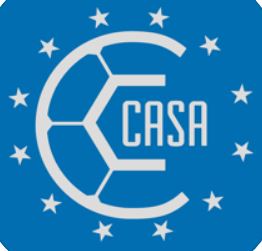 Download the CASA Soccer Mobile App on the Apple store!