2022 CASA Champions League (Philadelphia & South Jersey) Soccer · Any Abierto (Open/Recreational)
MonTueWedThuFriSatSun 7:00pm to 10:30pm
Team Fees

Regular

$1499.00 per team + $5.00 Processing Fee

Late

$1549.00 per team + $5.00 Processing Fee

Additional Team Fee

$100.00 (payable by captain)
Free Agent Fees

Regular

$105.00

Late

$110.00

CASA is the #1 Philadelphia soccer league for adult amateurs and we are excited to announce that our Summer 11v11 Champions League is back!

The CASA Champions League is the perfect way to stay fit over the summer (one weeknight per week) and prepare your club for their Fall 2022 campaign. As it is a Champions League, we're inviting clubs from any league in the area to prove they're the best!
Clubs will be set up in groups of 4, and play 3 matches against teams of a similar skill level (in either the Champions, Europa, or Conference league levels). After the first group stage, clubs will be promoted / relegated between levels, and a second group stage will commence and another 3 matches. Following the second group stage, the same process takes place, and clubs advance to a playoff series within their respective level.

Clubs will have the opportunity to earn cumulative cash prizes for group stages and / or playoffs.
In an example, 20 teams total register and your club is placed in the Europa League. Your club wins the first group stage (winning $200) and gets promoted to the Champions League for the second group stage. In the second group stage at the Champions League level, your club finishes 3rd (winning no prize money), and then wins the Champions League playoffs (winning $550). Prize money for three scenarios based on number of entrants below: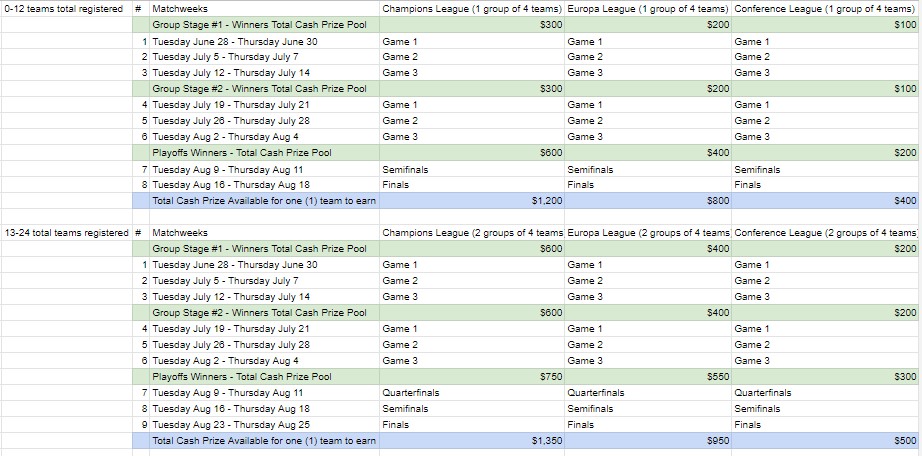 Format:

ALL MATCHES played on Tuesday, Wednesday, or Thursday evenings

7 matches guaranteed

First Group Stage takes place June 28 - July 14

Second Group Stage takes place July 19 - August 4

Playoffs take place August 9 - August 25

Group Stage games ending in a draw will remain a draw

11 v 11 soccer

90-minute games

2-Referee system

Match balls to be provided by teams
Important Dates:
Registration Deadlines: NOW OPEN through June 13 for clubs and players

Returning Teams:




Returning Teams use code "ICARUS SUMMER 2022" to rollover your $100 league disciplinary deposit.

Fields:

The CASA Champions League will play its matches on the turf field facilities on weeknights at: